SAE J1939 Starter Kit And Network Simulator - Extended Edition
Due to the global shortage of electronic components, we are unable to accept new orders. We are working on a replacement.
Product Description
Free Shipping Within The United States!
---
Our JCOM.J1939 Starter Kit And Network Simulator is designed to allow the experienced engineer as well as the beginner to experiment with SAE J1939 data communication without the need of connecting to a real-world SAE J1939 network, i.e. a diesel engine. It may sound obvious, but in order to establish a network, you need at least two nodes, and that fact applies especially to CAN/J1939 where the CAN Bus controller will basically shut down after transmitting data without receiving a response.
For that reason, our JCOM.J1939 Starter Kit And Network Simulator consists of two SAE J1939 nodes, namely our JCOM.J1939.USB, an SAE J1939 ECU Simulator Board With USB Port. The jCOM.J1939.USB gateway board is a high-performance, low-latency vehicle network adapter for SAE J1939 applications. The board supports the full SAE J1939 protocol according to J1939/81 Network Management (Address Claiming) and J1939/21 Transport Protocol (TP).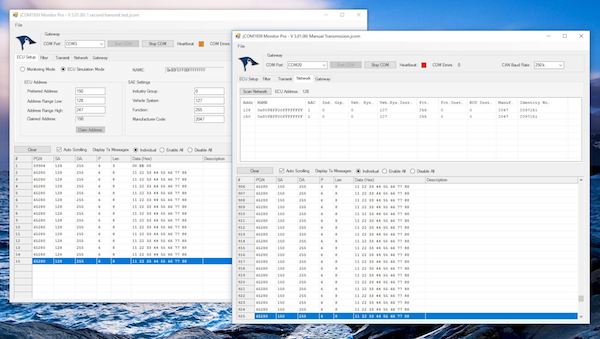 The idea behind the network simulator is to connect both nodes to the same PC (two PCs will do, too) and running two instances of our jCOM1939 Monitor Software after assigning the boards to their corresponding COM port.
This free-of-charge Windows software allows the user to monitor, transmit, and record SAE J1939 data traffic. For more information, please read our Quick Start Manual:
Board Components
Notes:
SW1 = ON - Disables the USB Communication Port and uses the USB Programming Port instead. This setting applies after a Reset of the gateway. It establishes hardware compatibility with the JCOM.J1939.USB-B gateway (USB-to-UART converter at 115,200 baud). This feature applies to firmware version 2.01.00 and higher.
Notes:
The driver for the USB Communication Port is installed automatically by the Windows operating system.
The USB Programming Port is used for future firmware updates.
The MicroSD card slot will support future applications, such as a CAN Bus or SAE J1939 Data Logger. All future updates will be available free-of-charge.
The LED will indicate SD card access.
Notes:
The RTC battery size is Lithium CR1220 (battery not included). The battery is

not

needed when operating the board with our JCOM1939 Monitor Software, since the software synchronizes the time between the PC and the onboard RTC. The battery will be necessary when operating the board independently from PC communication (future feature).
The serial extension board allows adding

a

GPS sensor

or an

SAE J1708 board

(future applications).
Driver Software
The USB driver software supports a variety of operating systems as shown below. Most operating systems, such as Windows or Linux, will recognize the USB port and install the appropriate driver automatically. However, should that not be the case, please download the driver for your operating system as indicated below:
Windows Software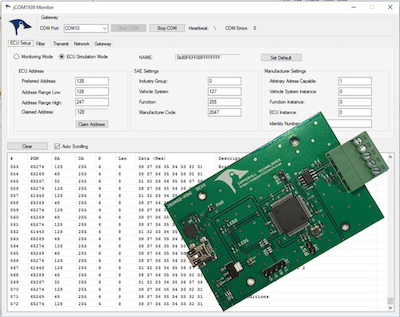 The communication protocol between the gateway and the host system (PC, Embedded System, Android System, etc.) is well documented, and we provide C/C# source code to read and write CAN data frames.
In addition, the gateway is supported by our jCOM1939 Monitor, an SAE J1939 Monitoring, Analyzer and ECU Simulation software under Windows.
The JCOM1939 Monitor Software is the perfect tool to monitor, analyze, and simulate SAE J1939 data traffic. The system combines our jCOM.J1939.USB that functions as an SAE J1939 to USB (or UART) gateway. A comprehensive and easy-to-use, easy-to-understand Windows software displays not only SAE J1939 data traffic; it also allows to scan the network, simulate an ECU (incl. full node address negotiation features), and respond to data request messages.
jCOM.J1939.USB General Features:
Full SAE J1939 Protocol on chip
Virtually OS independent
Easily adaptable; just access the COM port
Works with PCs, Raspberry Pi, BeagleBone, Teensy, Arduino
Protocol is well documented
C source code available
Windows tool: jCOM1939 Monitor
Power applied through USB port
Operating Range: -40...+85 C
Power consumption 0.486W - 0.097A @ 5VDC
(Average; Changes with CAN Bus load)
Board dimensions (W x L ): 52 x 78 ; 2.05" x 3.07"
Supported SAE J1939 Features Include:
Hardware is fully SAE J1939/1x compliant
Switchable termination resistor
SAE J1939/21 - Data Link Layer
SAE J1939/81 - Network Management
Setup of Preferred Node Address
Adjustable Node Address Negotiation Range
Message Filters
Full Network Communication incl. Transport Protocol
Design Tx Messages Incl. Transmission Rate
Configuration of Request Responses
Configuration of Request Messages
Network Scanner (Creates a list of all nodes in the network)
Resources
SAE J1939 Insights
---
A Comprehensible Guide to J1939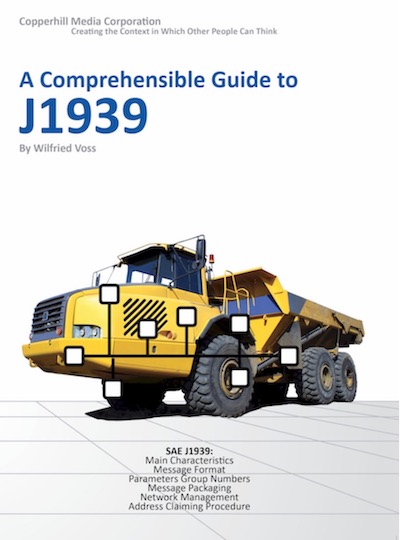 SAE J1939 has become the accepted industry standard and the vehicle network technology of choice for off-highway machines in applications such as construction, material handling, and forestry machines. J1939 is a higher-layer protocol based on Controller Area Network (CAN). It provides serial data communications between microprocessor systems (also called Electronic Control Units - ECU) in any kind of heavy duty vehicles.
The messages exchanged between these units can be data such as vehicle road speed, torque control message from the transmission to the engine, oil temperature, and many more.
The information in this book is based on two documents of the SAE J1939 Standards Collection: J1939/21 - Data Link Layer J1939/81 - Network Management A Comprehensible Guide to J1939 is the first work on J1939 besides the SAE J1939 standards collection.
It provides profound information on the J1939 message format and network management combined with a high level of readability.
Find Similar Products by Category
Customers also viewed