Product Description
This is a free download!
The JCOM1939 Monitor Pro-X software for Windows represents an upgrade to our JCOM1939 Pro version that addresses the advanced features of our JCOM.J1939.USB-X and JCOM.XE boards, such as a Real-Time Clock (RTC) and Micro SD card. The new version is called JCOM1939 Monitor Pro-X ("X" for extended).
This comprehensive and easy-to-use, easy-to-understand Windows software displays not only SAE J1939 data traffic; it also allows to scan the network, simulate an ECU (incl. full node address negotiation features), and respond to data request messages.
The communication protocol between the gateway and the host system (PC, Embedded System, Android System, etc.) is well documented, and we provide C/C# source code to read and write CAN data frames.
Features
FREE download
ECU Simulation Setup (Preferred Node Address, Negotiable Address Range, NAME, and more)
Filter J1939 PGNs for Display
Design J1939 PGNs for Transmission (Data and Request Messages)
Design J1939 PGNs for Request Responses
Simulate Digital and Analog Signals
Scan a J1939 Network (Number of Nodes, Node IDs, NAMEs)
Record SAE J1939 Data Traffic
Simulate SAE J1939 Data Traffic
Check Gateway Status (Error Messages, Software/Hardware Version)
Set Gateway Parameters (Heartbeat Frequency, Message Acknowledgment)
Free Updates
Extended Features
SAE J1939 Data Display and Recording Includes Timestamp
PGN Filter Setup Includes a Sample Frequency
SAE J1939 Data Recording to Micro SD Card Independent from PC Connection
Recorded SAE J1939 Data Transfer to PC - In Preparation
SAE J1939 Gateways
The JCOM1939 Monitor software works directly with the following SAE J1939 gateways:
Documentation
Development Resources
Program Versions And Update
Start your version of the jCOM1939 Monitor and check the version number in the window's caption (top bar).
If your version is older than the one as shown below, we strongly recommend to download and install the newest version.
JCOM1939 Monitor Pro-X – Download
The jCOM1939 Monitor Pro-X for Windows is free software; you can redistribute it under the terms of the GNU Lesser General Public License as published by the Free Software Foundation; either version 2.1 of the License or (at your option) any later version. The program is distributed in the hope that it will be useful, but WITHOUT ANY WARRANTY; without even the implied warranty of MERCHANTABILITY or FITNESS FOR A PARTICULAR PURPOSE. With downloading these programs, you confirm that you have read and agree with these terms and conditions.
The newest version is
V 4.10.00

After downloading the installation program, run the .exe program and follow the instructions on the screen to install the program. This is a standard installation program for Windows; there are no special actions or settings necessary.
Version History
V 4.01.00

V 4.10.00

Added "Gateway Recorder" section for J1939 data recording using the onboard SD card. For more information, see the user manual.
---
A Comprehensible Guide to J1939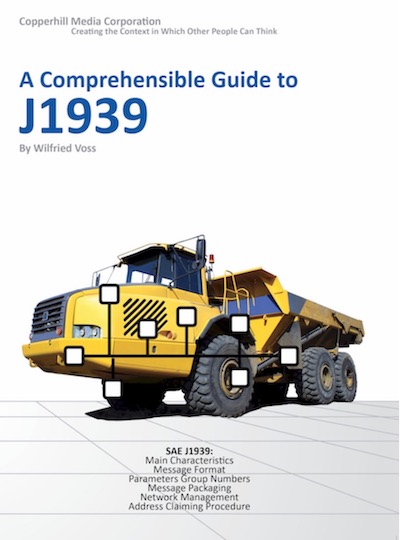 SAE J1939 has become the accepted industry standard and the vehicle network technology of choice for off-highway machines in applications such as construction, material handling, and forestry machines. J1939 is a higher-layer protocol based on Controller Area Network (CAN Bus).
It provides serial data communications between microprocessor systems (also called Electronic Control Units - ECU) in any kind of heavy duty vehicles. The messages exchanged between these units can be data such as vehicle road speed, torque control message from the transmission to the engine, oil temperature, and many more.
The information in this book is based on two documents of the SAE J1939 Standards Collection: J1939/21 - Data Link Layer J1939/81 - Network Management A Comprehensible Guide to J1939 is the first work on J1939 besides the SAE J1939 standards collection.
It provides profound information on the J1939 message format and network management combined with a high level of readability.
Find Similar Products by Category
Customers also viewed