Blog
Posted by Wilfried Voss on
This post is part of a series on CAN Bus and SAE J1939 Prototyping with the ARM Cortex M3 processor.
In order to connect your embedded system to a real vehicle network, you will need to provide the proper wiring and connectors. In the following, I will explain connections as they are used in the industry, but my description can only serve as a coarse educational example. Please refer to the SAE J1939 Standards Collection (SAE J1939/1x and SAE J1939/2x documents) for proper information.
The SAE J1939/13 Standard defines a standard connector for diagnostic purpose. It does allow access to the vehicle communication links. The connector is a Deutsch HD10 - 9 – 1939 (9 pins, round connector).
According to the official document, SAE J1939/13 Off-Board Diagnostics Connector, the connector supports both the twisted shielded pair media (as defined in SAE J1939/11) as well as the twisted unshielded quad media (as defined by ISO 11783-2). The designations of the individual signal wires are according to the CAN Standard CAN_H and CAN_L. For SAE J1939/11, a third connection for the termination of the shield is denoted by CAN_SHLD.
The pin assignment is as follows:
Pin A – Battery (-)
Pin B – Battery (+)
Pin C – CAN_H
Pin D – CAN_L
Pin E – CAN_SHLD
Pin F – SAE J1708 (+)
Pin G – SAE J1708 (-)
Pin H – Proprietary OEM Use or Implement Bus CAN_H
Pin J - Proprietary OEM Use or Implement Bus CAN_L
Yet again, or more detailed information on the connector and its wiring, please refer to the official SAE document.
---
A Comprehensible Guide to J1939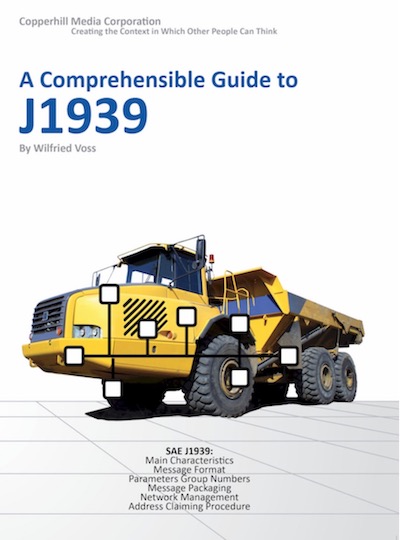 SAE J1939 has become the accepted industry standard and the vehicle network technology of choice for off-highway machines in applications such as construction, material handling, and forestry machines. J1939 is a higher-layer protocol based on Controller Area Network (CAN). It provides serial data communications between microprocessor systems (also called Electronic Control Units - ECU) in any kind of heavy duty vehicles. The messages exchanged between these units can be data such as vehicle road speed, torque control message from the transmission to the engine, oil temperature, and many more.
The information in this book is based on two documents of the SAE J1939 Standards Collection: J1939/21 - Data Link Layer J1939/81 - Network Management A Comprehensible Guide to J1939 is the first work on J1939 besides the SAE J1939 standards collection. It provides profound information on the J1939 message format and network management combined with a high level of readability.
=> Read More...