Multi-Turn SAE J1939 Encoders Enable Wear-Free And Maintenance-Free Operation
Posted by Industry News on
Turck, a specialist in sensor, Fieldbus, and connectivity, has added single- and multi-turn encoders with a solid or hollow shaft for mobile and agricultural machinery to its Industrial and Efficiency Line portfolio.
The IP67-protected encoders are available in sizes 36 mm, 46 mm, and 58 mm. Two interlocked bearings guarantee a solid mechanical design and protect from vibration or shock on the shaft. Users will benefit from an extended encoder service life compared to devices with a shaft bearing. The encoder's operation data offers diagnostic features via an SAE J1939 network. Installation, connection, and commissioning are user-friendly due to the design, standard cabling, and plug-and-play capabilities. Functional safety is accomplished due to an internal plausibility check of parameters.
The energy harvesting technology of the multi-turn SAE J1939 encoders enables wear-free and maintenance-free operation. They count rotations without an additional battery or mechanical gears.
While the standard single-turn resolution is 14 bit, the total resolution of the multi-turn encoders can be increased from 32 bit up to 43 bit if required, which results in over 500 million countable revolutions. Up to 127 nodes are maintained in a network of CANopen encoder models; an SAE J1939 network allows up to 254 nodes.
---
A Comprehensible Guide to J1939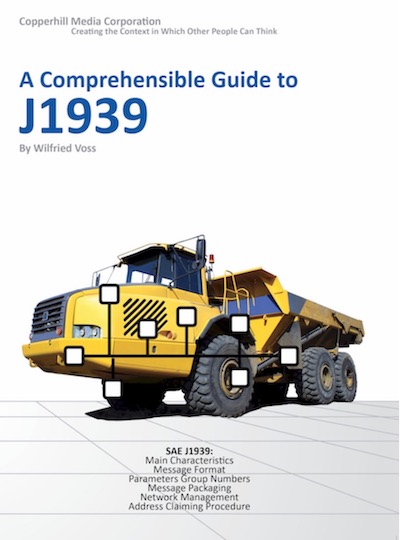 SAE J1939 has become the accepted industry standard and the vehicle network technology of choice for off-highway machines in applications such as construction, material handling, and forestry machines. J1939 is a higher-layer protocol based on Controller Area Network (CAN Bus).
It provides serial data communications between microprocessor systems (also called Electronic Control Units - ECU) in any kind of heavy duty vehicles. The messages exchanged between these units can be data such as vehicle road speed, torque control message from the transmission to the engine, oil temperature, and many more.
The information in this book is based on two documents of the SAE J1939 Standards Collection: J1939/21 - Data Link Layer J1939/81 - Network Management A Comprehensible Guide to J1939 is the first work on J1939 besides the SAE J1939 standards collection.
It provides profound information on the J1939 message format and network management combined with a high level of readability.