SAE J1939 9pin Cable Open End
SAE J1939 9pin Cable Open End
Product Description
Free Shipping Within The United States!
---
Features
Compatible with

Deutsch Connector P/N HD19-9-1939SE

RoHS Compliant
Shielded
20 AWG
Length: 6ft
All 9 pins connected
SAE J1939 or SAE J1708 cable
The open end is perfect for custom cable designs and prototyping
Heavy-duty materials and quality craftsmanship give the cable superior flexibility and durability
The cable is also directly compatible with our PiCAN2 DUO and PiCAN2 DUO with SMPS (Switch Mode Power Supply), the Dual CAN Bus interface boards for the Raspberry Pi. However, before using the cable with the SMPS version, please assure that the J1939 Battery voltage does not exceed 12 VDC. Otherwise, you may destroy the board.
J1939 Connector Pinout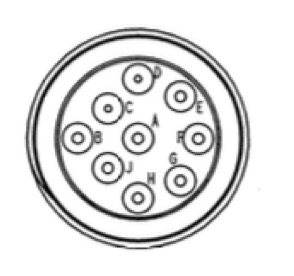 Pin A – Battery (-)
Pin B – Battery (+)
Pin C – CAN_H
Pin D – CAN_L
Pin E – CAN_SHLD
Pin F – SAE J1708 (+)
Pin G – SAE J1708 (-)
Pin H – Proprietary OEM Use or Implement Bus CAN_H
Pin J - Proprietary OEM Use or Implement Bus CAN_L
Pins E though J are not connected on the green plug.
For more detailed information on the connector and its wiring, please refer to the official SAE document.
J1939 Cable Connector Pinout - for the new green version:
A - Orange
B - Yellow
C - Brown
D - Green
E - Not Connected
F - Not Connected
G - Not Connected
H - Not Connected
J - Not Connected
J1939 Cable Connector Pinout - for the older black version:
A - Black
B - Red
C - Yellow
D - Green
E - Brown
F - Orange
G - Blue
H - Purple
J - White
The New Green 9-pin J1939 Connector Explained
Starting with the model year 2016 and newer trucks, commercial vehicles started showing up with the new green 9-pin plug in the dash. Before they were black in color, and now they are green. If you have a black cable, you will find that it will not physically fit into the green diagnostic port.
The main reason for the new "green" connector is that not all truck adapters and scanning tools are capable of reading 500 kbs, and it was feared that technicians would hook up older tools and cause damage to the tool, the truck, or both. The solution was to make the "Green" adapter slightly different so that it works on both the green and black adapter, thus making it backward compatible.
SAE J1939/13 - Off-Board Diagnostic Connector
J1939/13 defines a standard connector for diagnostic purpose. It does allow access to the vehicle communication links. The connector is a Deutsch HD10 - 9 – 1939 (9 pins, round connector).
According to the official document, SAE J1939/13 Off-Board Diagnostics Connector, the connector supports both the twisted shielded pair media (as defined in SAE J1939/11) as well as the twisted unshielded quad media (as defined by ISO 11783-2). The designations of the individual signal wires are according to the CAN Standard CAN_H and CAN_L. For SAE J1939/11, a third connection for the termination of the shield is denoted by CAN_SHLD.
---
A Comprehensible Guide to J1939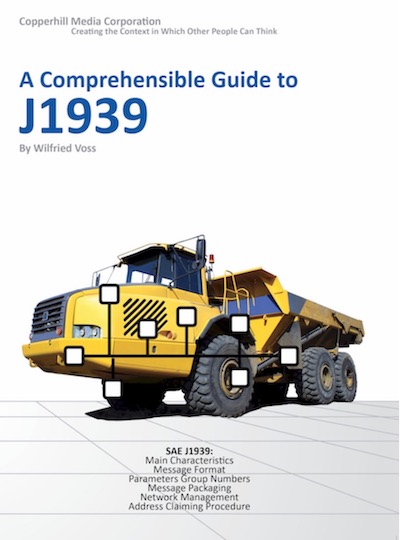 SAE J1939 has become the accepted industry standard and the vehicle network technology of choice for off-highway machines in applications such as construction, material handling, and forestry machines.
J1939 is a higher-layer protocol based on Controller Area Network (CAN). It provides serial data communications between microprocessor systems (also called Electronic Control Units - ECU) in any kind of heavy duty vehicles. The messages exchanged between these units can be data such as vehicle road speed, torque control message from the transmission to the engine, oil temperature, and many more.
The information in this book is based on two documents of the SAE J1939 Standards Collection: J1939/21 - Data Link Layer J1939/81 - Network Management A Comprehensible Guide to J1939 is the first work on J1939 besides the SAE J1939 standards collection. It provides profound information on the J1939 message format and network management combined with a high level of readability.
Find Similar Products by Category
Customers also viewed