CAN Bus / OBD-II Bluetooth Scanner
CAN Bus / OBD-II Bluetooth Scanner
Contact us through the online form on the left side bottom of this page.
Product Description
The jCOM.CAN.BTS is a CAN Bus and OBD-II scanner device with Bluetooth connection. It scans user-defined CAN message frames and transmits them per Bluetooth to a PC or Android phone or tablet (A BLE - Bluetooth Low Energy - version is in planning to support communication with iOS devices as well). The hardware is based on a generic design that allows a multitude of applications with the support of optional electronic components and corresponding firmware.
The input power (7 VDC to 36 VDC to suit a great range of applications, including vehicles) and the CAN Bus / OBD-II connections are provided per DSUB-9 connector according to CiA recommendations. An additional RS232 port is used for setting up the scanner, e.g. CAN Bus baud rate, message ID length, and up to 100 message filters. The CAN Bus message frame is translated into an ASCCI string for easy readability and processing.
Options
OBD2 16Pin to DB9 Serial Port Adapter Cable
External Bluetooth Antenna for Increased Transmission Range up to 100 meters (~300 feet)
Features
ARM Cortex-M3 Processor
CAN Bus Interface
Fully certified low-power Bluetooth Version 2.1 Module (with or without external antenna)
RS232 Interface For On-Site Firmware Upload and/or Setup Functionality
SD Card Slot for Setup Data Storage
Extended Temperature Range of -40C to +85C (-25C to +85C with SD Card)
Input Power Range of 7 VDC to 36 VDC
Flame Retardant ABS Enclosure 4.25 x 3.00 x 1.38 in / 107.95 x 76.20 x 35.05 mm
Environmentally friendly, RoHS compliant
Specifications
CAN Interface

CAN Controller integrated in microcontroller
Fully ISO 11898-compliant
Supports CAN 2.0A And CAN 2.0B
Bit rate up to 1 Mbit/s

Bluetooth

Fully certified Bluetooth version 2.1
Backwards-compatible with Bluetooth version 2.0, 1.2, and 1.1
Low power: 26 µA sleep, 3 mA connected, 30 mA transmit
Bluetooth SIG certified
Certifications: FCC, IC, CE
Two antenna options available: PCB trace and external antenna
Delivers up to 3 Mbps data rate for distances up to 20 meters (~60 feet)
Optional upgrade to support distances up to 100 meters (~300 feet)
---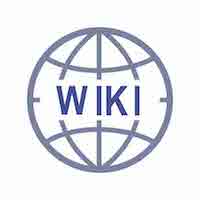 For a complete user manual and applicable firmware update information, please visit the Copperhill Technologies Wiki website.
User Manual
Device Setup
Firmware Versions & Update
---
Serial Interfaces
Details of the RS232 and CAN ports are described here.
RS232
The RS232 interface is used for the device setup and on-site firmware upload, using an RS232 to USB cable. We are working in enhancements of the firmware functionality and we will post updates of the firmware on this product page.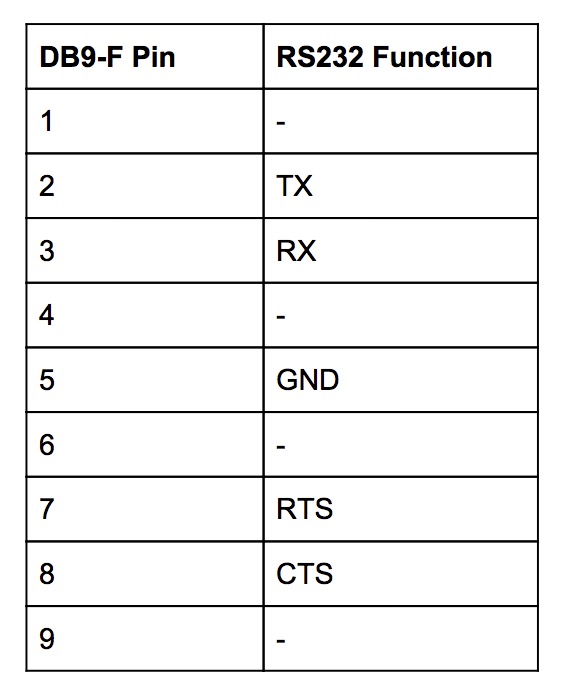 RTS and CTS are not connected. CTS is always held in the ready state.
CAN Port
The CAN port has an on-board 120Ω (0.5W) termination resistor. This termination resistor can be connected or disconnected via an on-board slide switch.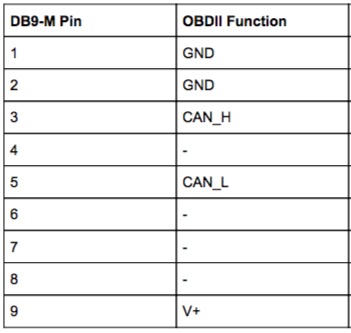 CAN Bus Termination Resistor
The jCOM.CAN.BTS device comes per default with a 120 Ohm termination resistor activated. To deactivate the resistor, open the enclosure and locate the DIP switch as indicated in the following image.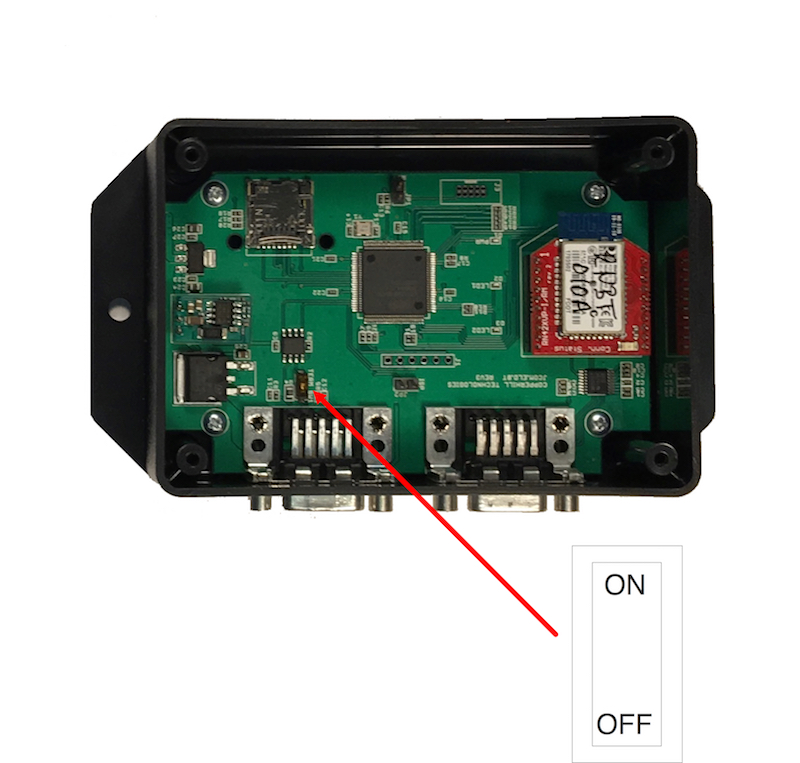 Device Setup
An additional RS232 port is used for setting up the scanner, e.g. CAN Bus baud rate, message ID length, and up to 100 message filters. A terminal program under Windows or Linux can be used for the setup as demonstrated in the following image:
As an example, the CAN Bus baud rate is set by hitting 'b' and then choosing the desired bitrate: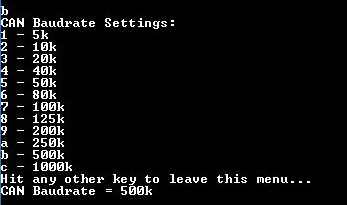 All parameters can be saved permanently onto the onboard SD card.
The CAN Bus message frame is translated into an ASCCI string for easy readability and processing. The following shows another terminal program connected to the Bluetooth COM port: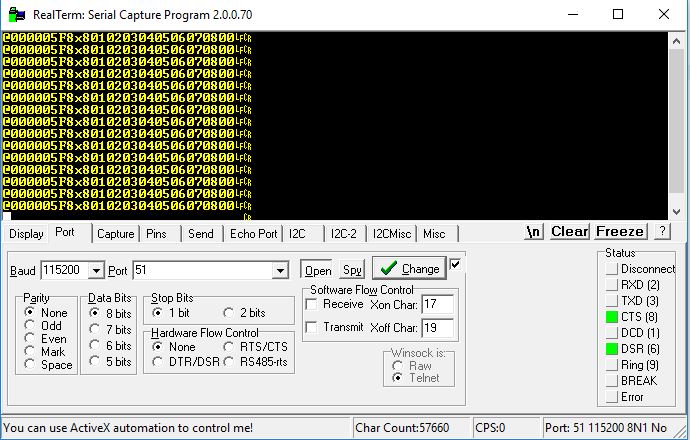 Find Similar Products by Category