STM32F4 Core Development Board
STM32F4 Core Development Board
Product Description
Sorry, this product is discontinued!
---
The Core407Z is a small STM32 development board that features an STM32F407ZxT6 microcontroller, which also supports further expansion. It is ideal for starting application development with the STM32F family.
As a minimal ready-to-run system, the Core407Z integrates a USB communication interface, JTAG/SWD programming/debugging, clock circuit, USB power management, boot mode selection, and more.
Furthermore, pin headers on the backside allow the Core407Z to be plugged into your application board and act as the MCU core circuit in your system. All I/O ports are accessible through pin headers, and the header pitch is designed as 2.00mm.
Board Components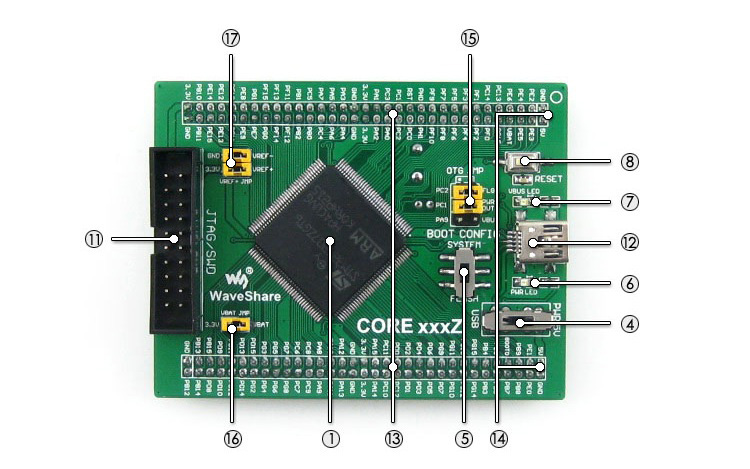 STM32F407ZxT6 (STM32F407ZET6 by default):

the high performance STM32 MCU which features:

Core: Cortex-M4 32-bit RISC
Feature: a full set of single-cycle DSP instructions
Operating Frequency: 168MHz, 210 DMIPS/1.25 DMIPS/MHz
Operating Voltage: 1.8V-3.6V
Package: LQFP144
Memories: 512kB/1024kB Flash, 192+4kB SRAM
MCU communication Interfaces:

3 x SPI, 4 x USART, 2 x UART, 2 x I2S, 3 x I2C
1 x FSMC, 1 x SDIO, 2 x CAN
1 x USB 2.0 high-speed/full-speed device/host/OTG controller with dedicated DMA, ULPI and on-chip full-speed PHY
1 x 10/100 Ethernet MAC
1 x 8 to 14-bit parallel camera interface

AD & DA converters: 3 x AD (12-bit, 1μs, shares 24 channels); 2 x DA (12-bit)
Debugging/Programming: supports JTAG/SWD (serial wire debug) interfaces, supports IAP

AMS1117-3.3 (on bottom side):

3.3V voltage regulator

MIC2075 (on bottom side):

onboard USB power management device

Power supply switch,

powered from 5Vin or USB connection

Boot mode switch,

for configuring BOOT0 pin

Power indicator

VBUS LED

Reset button

8M crystal oscillator (on bottom side)

32.768K crystal (on bottom side),

for internal RTC with calibration

JTAG/SWD interface:

for debugging/programming

USB interface

as DEVICE, used for establishing USB communication between PC and the STM32 development board
as HOST, connecting to USB devices such as USB flash drive through a USB OTG cable

MCU pins expander,

VCC, GND and all the I/O ports are accessible on expansion connectors for further expansion

5Vin pinheader,

5V power supply is required when using USB HOST/OTG

USB HOST/OTG jumper

short the jumper when using USB HOST/OTG
open the jumper to disconnect from I/O port

VBAT selection jumper

short the jumper to use system power supply
open the jumper to connect the VBAT to external power, such as battery

VREF selection jumper
short the jumper to connect VREF+ to VCC
open the jumper to connect VREF+ to other custom pin via jumper wire
JTAG/SWD Interface
Dimensions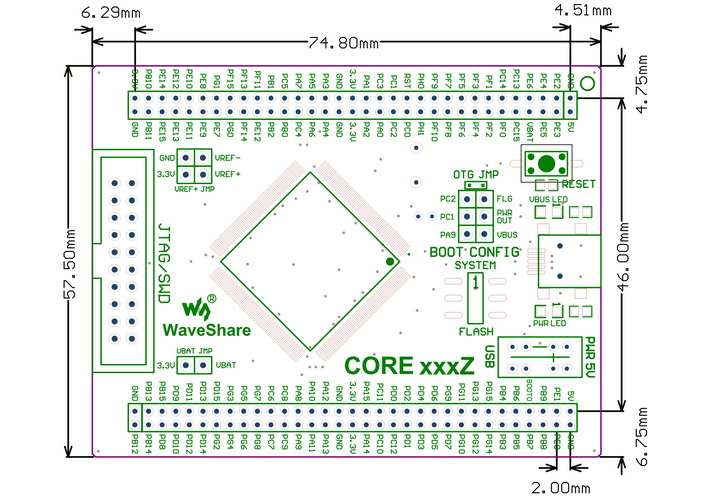 Development Resources
---
Embedded Systems with ARM Cortex-M Microcontrollers in Assembly Language and C
Significant changes in the third edition include updated serial communication description (UART, SPI, and I2C), new serial communication examples, incorporation of GNU gcc compiler, low power modes, modification of example programs from STM32L1 (Cortex-M3) to STM32L4 (Cortex-M4).

The book introduces basic programming of ARM Cortex-M cores in assembly and C at the register level, and the fundamentals of embedded system design. It presents basic concepts such as data representations (integer, fixed-point, floating-point), assembly instructions, stack, and implementing basic controls and functions of C language at the assembly level.
It covers advanced topics such as interrupts, mixing C and assembly, direct memory access (DMA), system timers (SysTick), multi-tasking, SIMD instructions for digital signal processing (DSP), and instruction encoding/decoding.
The book also gives detailed examples of interfacing peripherals, such as general purpose I/O (GPIO), LCD driver, keypad interaction, stepper motor control, PWM output, timer input capture, DAC, ADC, real-time clock (RTC), and serial communication (USART, I2C, SPI, and USB).
Find Similar Products by Category
Customers also viewed