Product Description
Raspberry Pi Not Included!
The RPi Relay Board provides your Raspberry Pi the ability to control high voltage and high current devices, easily adding intelligence to your regular home appliances.
RPi Relay Board Features
Supports Raspberry Pi A+/B+/2B/3B
High quality relays, loads up to 250VAC/5A, 30VDC/5A
Photo coupling isolation, prevent interference from high voltage circuit
Onboard LEDs for indicating relays status
Relay control jumper, allows to control the relays by custom pins other than the default pins
Comes with development resources, including examples in wiringPi, WebioPi, shell, python, and bcm2835
RPi Relay Components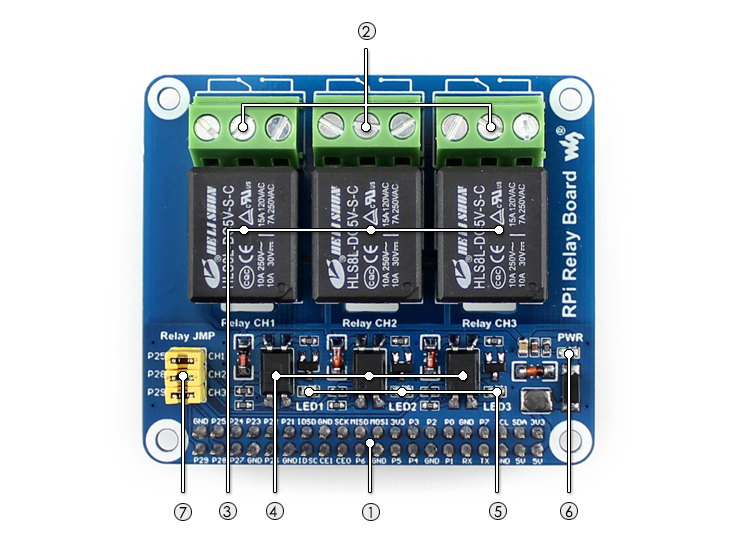 Raspberry Pi GPIO pin header

Relay screw terminal:

for connecting target devices

Relays

Photocoupler:

PC817

Relay indicator
LED on: relay NC is opened, NO is closed
LED off: relay NC is closed, NO is opened
Power indicator
Relay control jumper
short the jumper: control the relays by default I/Os used in the example code
open the jumper: control the relays by custom I/Os through jumper wires
RPi Relay Dimensions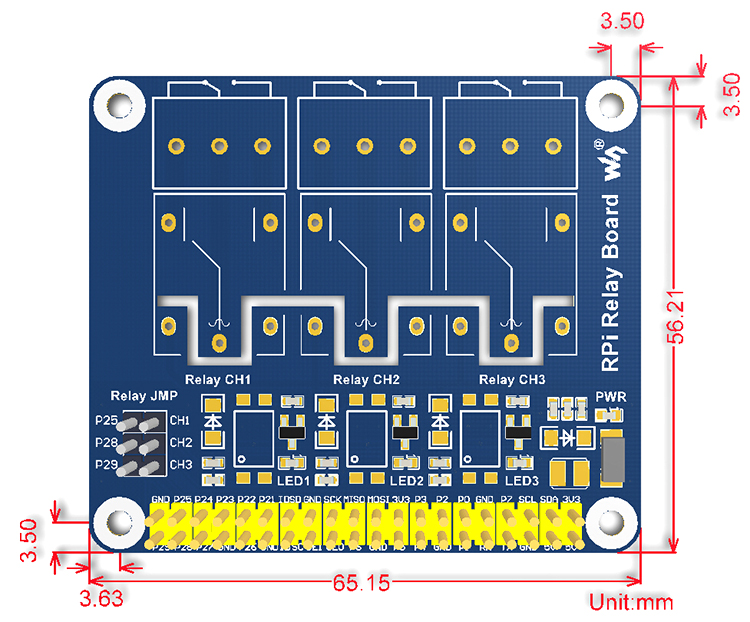 RPi Relay Development Resources
---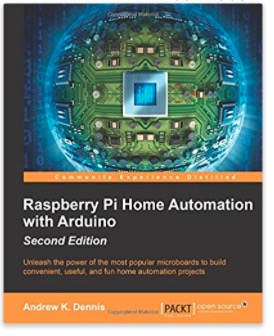 Revolutionize the way you interact with your home and become part of the rapidly growing group of hobbyists and enthusiasts by combining the powerful Raspberry Pi with an Arduino board.
Starting with an introduction to the Raspberry Pi and Arduino boards you will set up your very own home automation system through a series of exciting projects, making your life a lot easier.
Build a thermostat, a Raspberry Pi control device, a parcel delivery detector, and a water and damp detector, and then move on to more complex projects including a motor mechanism to control your curtains.
By the end of this practical guide, you will be a confident user who can program, set up, and run a wide range of applications using both the Raspberry Pi and the Arduino.
Revolutionize the way you automate your home by combining the power of the Raspberry Pi and Arduino
Build simple yet awesome home automated projects using an Arduino and the Raspberry Pi
Learn how to dynamically adjust your living environment with detailed step-by-step examples
Who This Book Is For
If you are new to the Raspberry Pi, the Arduino, or home automation and wish to develop some amazing projects using these tools, then this book is for you. Any experience in using the Raspberry Pi would be an added advantage.
What You Will Learn
Set up the Raspberry Pi and the Cooking Hacks Arduino bridge shield
Work with electronic components to build small circuits
Develop applications that interact with your circuits
Use thermistors, FSRs, and photoresistors to monitor and control your surroundings
Communicate with your Raspberry Pi from an Arduino Uno via Ethernet
Send yourself e-mail updates when a parcel arrives at your home
Control your own mains power with a relay shield and even connect a motor to your Raspberry Pi
Build a device that checks for damp/flooding using the Arduino bridge shield and Raspberry Pi
Find Similar Products by Category
Customers also viewed