Product Description
Free Shipping Within The United States!
Microchip Technology's MCP2515 is a stand-alone Controller Area Network (CAN Bus) controller that implements the CAN 2.0B specification. It is capable of transmitting and receiving both standard (11-bit) and extended (29-bit) data and remote frames. The MCP2515 has two acceptance masks and six acceptance filters that are used to filter out unwanted messages, thereby reducing the host MCU's overhead. The MCP2515 interfaces with microcontrollers (MCUs) via an industry standard Serial Peripheral Interface (SPI).
The TJA1050 is a high-speed CAN Bus transceiver, and it represents the interface between the Controller Area Network (CAN Bus) protocol controller, i.e. the Microchip MCP2515, and the physical bus. The device provides differential voltage for transmission to the CAN bus and TTL signals for receive capability to the CAN Bus controller.
Supports CAN V2.0B specification, with communication speed up to 1Mb/s.

0 to 8-byte data field with standard frame, extended frame and remote frame.

5V DC power supply module, SPI interface protocol control.

Onboard 120 Ohm termination resistor.

Working current: 5mA (1 microamp standby current).

Operating temperature: -40 C - +85 C
MCP2515 CAN Bus Breakout Board - Schematics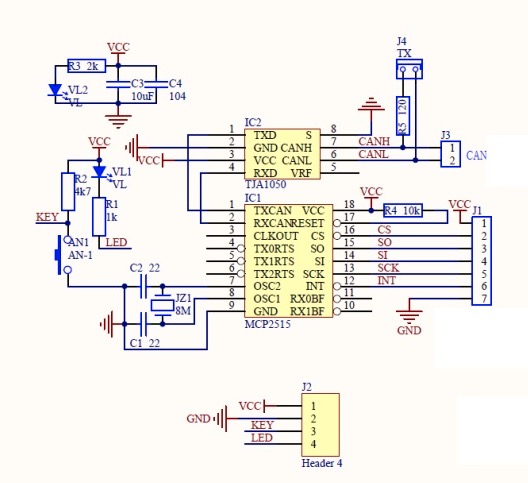 MCP2515 CAN Bus Breakout Board - Connecting to Arduino Uno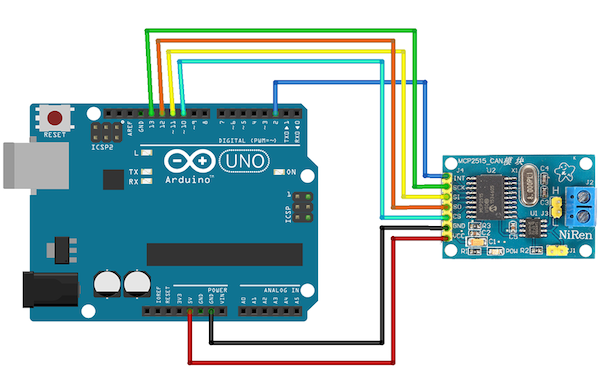 Documentation
More Resources
Find Similar Products by Category