Linux-Based Electronic Logging Device for Fleet Management With SAE J1939 Interface
Linux-Based Electronic Logging Device for Fleet Management With SAE J1939 Interface
For more information, please contact us through the online form on the left side bottom of this page.
Product Description
This product is under current development...
Please feel free to contact us.
---
We at Copperhill Technologies are currently working with a customer to develop an Electronic Logging Device compliant with the Rule of the ELD mandate.
Electronic Logging Device (ELD)
An electronic logging device (ELD) is electronic hardware that is attached to a commercial motor vehicle engine to record driving hours. The driving hours of commercial drivers (truck and bus drivers) are regulated by a set of rules known as the hours of service (HOS). The Commercial Vehicle Driver Hours of Service Regulations vary in Canada and the United States.
An ELD monitors a vehicle's engine to capture data on whether the engine is running, whether the vehicle is moving, miles were driven, and duration of engine operation.
Design Concept
The ELD design is based on our Galvanically Isolated Quad Channel CAN/CAN-FD to USB Gateway. The JCOM.CAN.QUAD gateway board is a galvanically isolated four-channel CAN-to-USB gateway board that can also control two LIN Bus ports. The board comes with two UART ports, which allow the use of external LIN Bus breakout boards, such as our Isolated LIN Bus Breakout Board. In addition, we will be able to support RS 232, RS 485, and RS 422, should the need arise.
The board comes with a real-time clock (RTC), an optional GPS sensor, and a power supply that accepts an input of 7 to 36 VDC, covering the range that can apply to diesel engines. The operational temperature range is -40 to +85 Celsius.
While not specifically designed for the Raspberry Pi, the Quad-Channel CAN board comes with four mounting holes to accommodate the RPi, thus adding Linux-compatibility. The design similar to our SAE J1939 board as described in SAE J1939 ECU Simulator And Data Monitor for Raspberry Pi. The Linux capability is important, because it supports extensive file management features which are difficult to accomplish with embedded systems without an operating system. Furthermore, a Linux system such as the Raspberry Pi comes with a variety of peripherals such as Ethernet and wireless ports (WiFi and Bluetooth).

However, we are using the Raspberry Pi only for a proof of concept, because it does not meet the requirements for operation in a potentially harsh environment. Specifically, the Raspberry Pi does not support an extended temperature range of -40 to +85 Celsius. Nevertheless, the RPi represents an inexpensive yet easy-to-manage and quick prototyping solution. After the proof of concept, we will modify the design to accomodate an industrial-strength Linux single-board computer.
Enclosure
We chose an IP66-rated enclosure with a black anodized aluminum body and removable black powder coated cast aluminum end caps. The grooved exterior guarantees fast heat removal.
The robust nature of this enclosure will also help to compensate for the Raspberry Pi's temperature range issue, specifically for cold temperatures. The RPi, naturally, develops heat which will be caught inside the enclosure. This may not necessarily helpful for high temperatures, but most of our customers operate in colder climates, such as Canada.
SAE J1939 Capability
During the past years, we have developed (and sold) a number of SAE J1939 devices, which all operate with similar hardware configurations. Our SAE J1939 protocol stack has demonstrated reliability and ease-of-use over many years, and the implementation onto our Quad-CAN board was a breeze.
Our SAE J1939 product line includes:
---
A Comprehensible Guide to J1939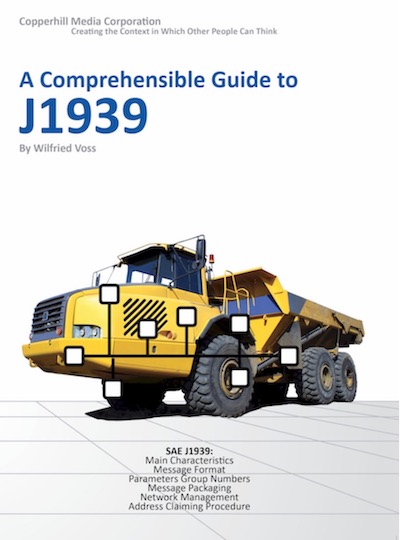 SAE J1939 has become the accepted industry standard and the vehicle network technology of choice for off-highway machines in applications such as construction, material handling, and forestry machines. J1939 is a higher-layer protocol based on Controller Area Network (CAN Bus).
It provides serial data communications between microprocessor systems (also called Electronic Control Units - ECU) in any kind of heavy duty vehicles. The messages exchanged between these units can be data such as vehicle road speed, torque control message from the transmission to the engine, oil temperature, and many more.
The information in this book is based on two documents of the SAE J1939 Standards Collection: J1939/21 - Data Link Layer J1939/81 - Network Management A Comprehensible Guide to J1939 is the first work on J1939 besides the SAE J1939 standards collection.
It provides profound information on the J1939 message format and network management combined with a high level of readability.
Find Similar Products by Category
Customers also viewed