Li-polymer Battery HAT for Raspberry Pi
Li-polymer Battery HAT for Raspberry Pi
Product Description
Sorry, this product is discontinued.
The Li-polymer Battery HAT integrates the SW6106 power bank management chip and allows providing 5 VDC regulated power supply to the Raspberry Pi or other 5 VDC devices from a high capacity Li-polymer battery. It charges the battery as well and supports quick bi-directional charging.
Compared to a Li-ion Battery HAT, this HAT utilizes a Li-polymer battery with higher capacity, which means longer battery life, and allows higher loads. The HAT is suitable for the Raspberry Pi B/A+/B+/2B/3B/3B+/4B.
Features
Onboard SW6106 chip, supports bi-directional quick charge, supports multi quick charge protocols like PD/QC/FCP/PE/SFCP
Lithium battery protection circuitry, provides reverse protection, over charge protection, and short circuit protection
Onboard indicators: quick charge, power capacity
PH 2.0 battery connector, for connecting the 3.7V 3000mA high capacity Li-polymer battery (MSDS certified)
Specifications
Output voltage: 5 VDC
Charge voltage: 5 VDC
Applicable battery: 3.7 VDC Li-polymer battery (4.2 VDC when full charged)
Dimension: 65.0mm × 56.5mm
Mounting hole size: 3.0mm
Li-polymer Battery HAT for Raspberry Pi - Components
Raspberry Pi GPIO connector: for connecting Raspberry Pi
PH 2.0 battery connector: for 3.7V Li-polymer battery
USB Type-C connector: 5V battery charge/power output, supports quick charge
USB Type-A connector: 5V power output
Micro USB connector: 5V battery charge
SW6106 power management chip
Power output control switch
Click: operating mode, provides 5V output
Double click: standby mode, no output
Battery power capacity indicator: 5x LEDs to indicate the power capacity and charging status
Quick charge indicator: on when quick charging
Li-polymer battery: 3.7V 3000mAh, MSDS certified
Li-polymer Battery HAT for Raspberry Pi - Dimensions
Development Resources
---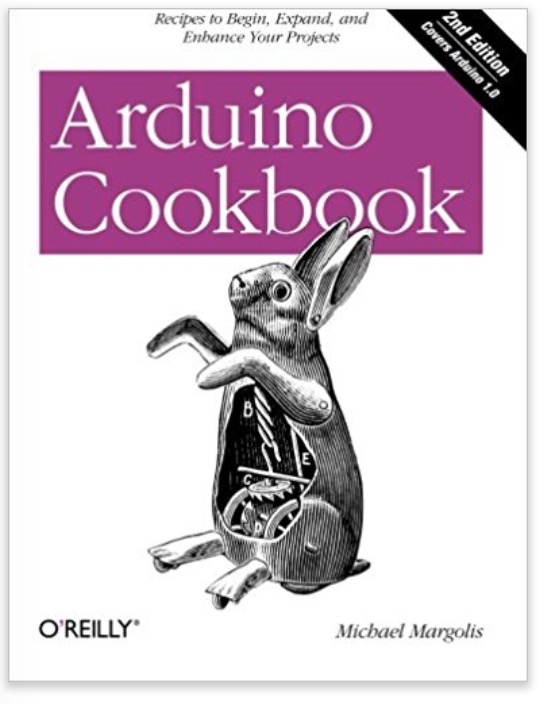 Want to create devices that interact with the physical world? This cookbook is perfect for anyone who wants to experiment with the popular Arduino microcontroller and programming environment. You wi€™ll find more than 200 tips and techniques for building a variety of objects and prototypes such as toys, detectors, robots, and interactive clothing that can sense and respond to touch, sound, position, heat, and light.
You don'€™t need experience with Arduino or programming to get started. Updated for the Arduino 1.0 release, the recipes in this second edition include practical examples and guidance to help you begin, expand, and enhance your projects right away, whether you a€™re an artist, designer, hobbyist, student, or engineer.
Get up to speed on the Arduino board and essential software concepts quickly
Learn basic techniques for reading digital and analog signals
Use Arduino with a variety of popular input devices and sensors
Drive visual displays, generate sound, and control several types of motors
Interact with devices that use remote controls, including TVs and appliances
Learn techniques for handling time delays and time measurement
Apply advanced coding and memory handling techniques
Find Similar Products by Category