Product Description
Sorry, but this product is discontinued on this website!
This extended version of the CAN-BUS Shield adopts the MCP2515 CAN-BUS controller with SPI interface and MCP2551 CAN transceiver to give you Arduino CAN-BUS capability. The board is a successor to the V1.0 and V1.2 CAN Bus shield, and it is fully backwards-compatible.
The CAN-BUS Shield V2 still uses MCP2515 as CAN-BUS controller and MCP2551 as CAN transceiver, but there are many updates. First and most importantly, the OBD-II or CAN standard pinout can be selected by switching jumpers on the DB9 interface; the default pinout is OBD-II. Secondly, there is a Micro SD card slot for data storage and the CS pin can be either set to D4 or D5. The INT pin can also be set to D2 or D3 by switching jumpers on the back of the shield. If you want to use more than 2 CAN-BUS Shield, it is necessary to cut the P1 pad. In V2, the P1 pad was moved from front to the back of the shield to make it easier to cut and solder.
Please be aware that the D0/D1 pin are usually used for downloading code, which required to change the serial Grove connector to pin A0/A1. The I2C grove connector is also changed to more reasonable standard SDA/SCL pin instead of the previous A4/A5. The two grove connectors are both changed to horizontal rather than vertical to the shield so that it will be more convenient when connecting to other grove modules.
Features
Implements CAN V2.0B at up to 1 Mb/s
Industrial standard 9 pin sub-D connector
OBD-II and CAN standard pinout selectable.
Changeable chip select pin
Changeable CS pin for TF card slot
Changeable INT pin
Screw terminal that easily to connect CAN_H and CAN_L
Arduino Uno pin headers
2 Grove connectors (I2C and UART)
SPI Interface up to 10 MHz
Standard (11 bit) and extended (29 bit) data and remote frames
Two receive buffers with prioritized message storage
More Resources
References
---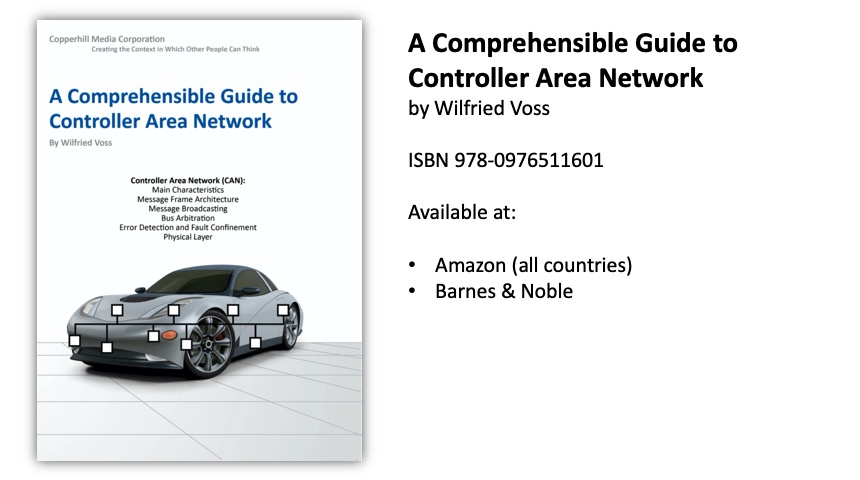 A Comprehensible Guide to Controller Area Network by Wilfried Voss represents the most thoroughly researched and most complete work on CAN available in the marketplace.

Controller Area Network (CAN) is a serial network technology that was originally designed for the automotive industry, especially for European cars, but has also become a popular bus in industrial automation as well as other applications.
The CAN bus is primarily used in embedded systems, and as its name implies, is a network technology that provides fast communication among microcontrollers up to real-time requirements, eliminating the need for the much more expensive and complex technology of a Dual-Ported RAM.

This book provides complete information on all CAN features and aspects combined with a high level of readability.
Find Similar Products by Category