2 Channel CAN-Bus Thermocouple Interface K-Type
Sorry, we are currently out of inventory but please feel free to pre-order. Expected release date is Oct 31st 2019
Product Description
The board provides a two channel CAN-Bus thermocouple K-type interface. It can read a temperature from -270 to +1250 oC depending on probe used. The CAN message ID can be configured through on-board DIP switches and the sample rate can be configured to support a 0.5 or 1 second interval.
Features
Two channel K-type thermocouple inputs
-270 to +1250 ºC input range (probe dependent)
0.25 ºC resolution
0.5 or 1 second sample rate
6v to 16v input voltage range
Reverse voltage polarity protection
Selectable CAN baudrate via dip switches. 125, 500, 1000kbps
Selectable CAN ID via dip switches
UART output
SWD/JTAG header
LED indicator
Documents
---
Option: Thermocouple Type-K - Stainless Steel
We offer an optional stainless steel, Type-K Thermocouple probe. A thermocouple works by taking two wires made of dissimilar metals, connecting them at the two ends, and making a temperature gradient between one end and the other (a 'hot' end and a 'cold' one). Once this is achieved, a voltage potential is formed and current flows. One junction is held in the environment where the temperature of interest exists, this is known as the hot junction. The other junction, referred to as the cold junction, can typically be found in ICs that specialize in reading the temperatures detected by the thermocouple probe.
This common Type-K Thermocouple is made out of chromel and alumel, while offering a temperature high of 400°C and a low of 0°C. The probe itself is only 200mm (7.8in) long with a diameter of 5mm (~0.2in) and is terminated with a standard thermocouple connector.

Note: This Type-K Thermocouple probe is not intended to be used for food.
Features
Type-K
Standard Thermocouple Connector
Temperature Range: 0-400°C
Probe Dia: 5mm
Probe Material & Length: stainless steel, 200mm
---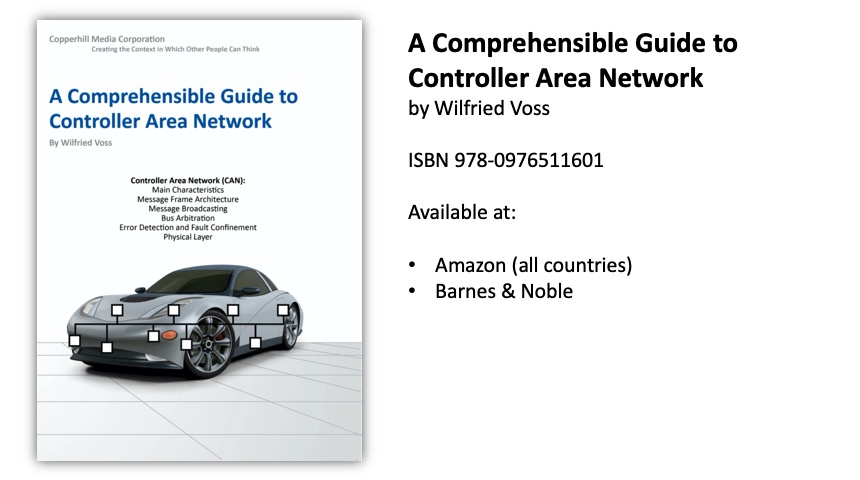 A Comprehensible Guide to Controller Area Network by Wilfried Voss represents the most thoroughly researched and most complete work on CAN available in the marketplace.

Controller Area Network (CAN) is a serial network technology that was originally designed for the automotive industry, especially for European cars, but has also become a popular bus in industrial automation as well as other applications. The CAN bus is primarily used in embedded systems, and as its name implies, is a network technology that provides fast communication among microcontrollers up to real-time requirements, eliminating the need for the much more expensive and complex technology of a Dual-Ported RAM.

This book provides complete information on all CAN features and aspects combined with a high level of readability. => Read more...
Find Similar Products by Category